Happy Friday Guys,
 
Here comes a long post! But, first: Thanks to 32assassin for the wonderful Cosmic Gunfight table used in the video below. Also, thanks to flupper1 for the wonderful resources (rails, lightning bats) that I've been swapping onto all my tables lately.
 
I love the way VP flippers feel, but in comparison with the two real pinball machines in our garage, there's a major physical phenomenon missing: The EOS switch behavior.
 
A little on EOS switches in real pinball machines, and how they affect flipper feel: "To understand the importance of end-of-stroke switches (EOS) you have to understand how flippers work. On almost every type of pinball machine, a flipper coil is different from a regular coil. It's two windings in one package, one powerful one which uses high voltage, and a less powerful one which uses lower voltage. You need the high power winding to move the flipper bat up, and kick a pinball away. But if keep the flipper bat in the up-position (i.e. to trap a pinball) this can overheat and damage the flipper coil. So therefor there's a low voltage winding too. Once the flipper bat is in the up-position the coil switches to this lower 'hold' voltage, so it can stay in that position for minutes without damaging the coil."
 
Source: http://www.flippers....adjustment.html
 
"Virtual pinball flippers aren't going to 'burn up,' so how could the EOS switch setting matter in Visual Pinball?" The answer is that beyond keeping the coil from burning up, the EOS switch has the super cool side-affect of allowing for all sorts of flipper tricks (covered in the amazing video Pinball 101, if you don't own it already!): Flick and Tap passes, cradle separations, etc.
 
See this quick PAPA video for a perfect illustration:
 
https://youtu.be/0iP8OMeNCyQ
 
Without the EOS switch, the flick pass in this video simply wouldn't be possible. In order to clear the gap between flippers with a gentle flick pass, the EOS switch needs to be telling the flipper to use the low voltage coil, rather than the high voltage coil that's normally used to blast the ball to the upper end of the playfield.
 
How to use the low voltage rail:
 
1. Hold the flipper up. Keep the button pressed in. The EOS (end of stroke) switch is automatically engaged.
2. Quickly release the flipper button and press it back in again -- almost immediately.
3. The result is an ever so slight "flick" of the flipper, generated from the low voltage coil.
 
One of our challenges with VP flipper settings (and this is something that JimmyFingers did some really cool work on with BMPR physics settings, before I discovered VP a year ago), is that most of our tables are set in such a way that the EOS switch is torqued so high that no matter how quickly the player does step 2 from above (quickly release and repress flipper button while flipper is being held in the up position), we almost always get a full "high voltage blast" from the flipper. This makes subtle flick and tap passes nearly impossible in VP. Cradle separations during multiball are complicated with current settings, too. I promise I'm not griping. Just an observation.

 
This is easy to fix, but it involves a few small tradeoffs.
 
First of all, here are my flipper settings:
 


 
Note that the return strength is really low. I think people usually leave this set closer to "1" or ".8." I've dialed it all the way down to ".02" This is one of the tradeoffs - the flipper is just as quick to ramp up to its up position, but is relatively slower to return to its resting position once released.
 
Next, the EOS Torque defaults at .75. I don't believe I've downloaded a table yet where this has been altered (I'm not complaining - I love you guys' work!). I've lowered this to ".03"
 
Here are my table physics settings for this video: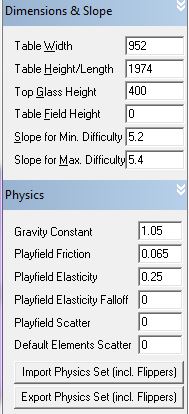 I can't remember exactly what I changed, but I almost always raise the gravity constant just a bit and dial up the friction a bit.
 
 
Video Demonstration:
 
Wish my shots we better in the video below, only because I'd liked to have showcased how useful a nicely tuned EOS switch can be to help with backhand shots, etc.A table like Cosmic Gunfight lends itself really well to backhanding shots, because normal forehand shots can lend to brutal drains. Also - I didn't pull a single flick pass off! But -- I assure you, you can flick pass with these settings (if you have more skill than me!).
 
Note that when the ball travels from the upper playfield and dead bounces off the flippers, they're so "loose" with these settings that they really "give." That's not me flipping in this case, just the flipper rebounding up from the force of the ball hitting down on it.
 
Feature requests: I'd love to see a new value-field at some point in flipper settings that allowed for this same level of taking advantage of EOS activated low voltage, without so much "give" in the flippers upon contact from a fast traveling ball. A little bit is ok, but the effect is exaggerated here. Also, on a real table this low voltage behavior is not dependent on the flipper returning to its resting position so slowly. Could these behaviors be separated out?
 
Note that you can still engage the fully high powered coil shots by forehanding here. These flipper settings don't affect the power of regular shots. In other words, they don't make your flippers weak.
 
Curious to see what you guys think...
 
Here's the video:
 
Edited by Ben Logan, 11 July 2016 - 06:18 PM.