Let me first apologize for offending anybody's sensibilities WRT converting a machine that could have likely been "saved". I spent about a month trying to rustle up a power supply so I could begin to determine what all was damaged when the previous owner replaced the fuses with foil and the transformer melted down. I found a different complete, working Galaxy for $400 and decided my electronically burned out unit would be much more valuable to me as a simulator. I'm sure not all the electronics were toasted, but I refused to start shotgunning a bunch of parts at what likely would cost triple a superior replacement. Many said I should trade it for a stripped cab or build a flatpack. Stripped cabs are like hen's teeth around here and flatpacks are too much work and money. I decided to do what was best for me, my time and my wallet. I surely would have traded this machine out for another standard cab, but it took me over half a year to find this one. I enjoy and appreciate the genuine patina of 30 years of abuse and will keep the original paint as-is.
This machine will have a slightly recessed playfield, a borderless backglass and a 12" laptop LCD DMD. No force feedback.
How I got it: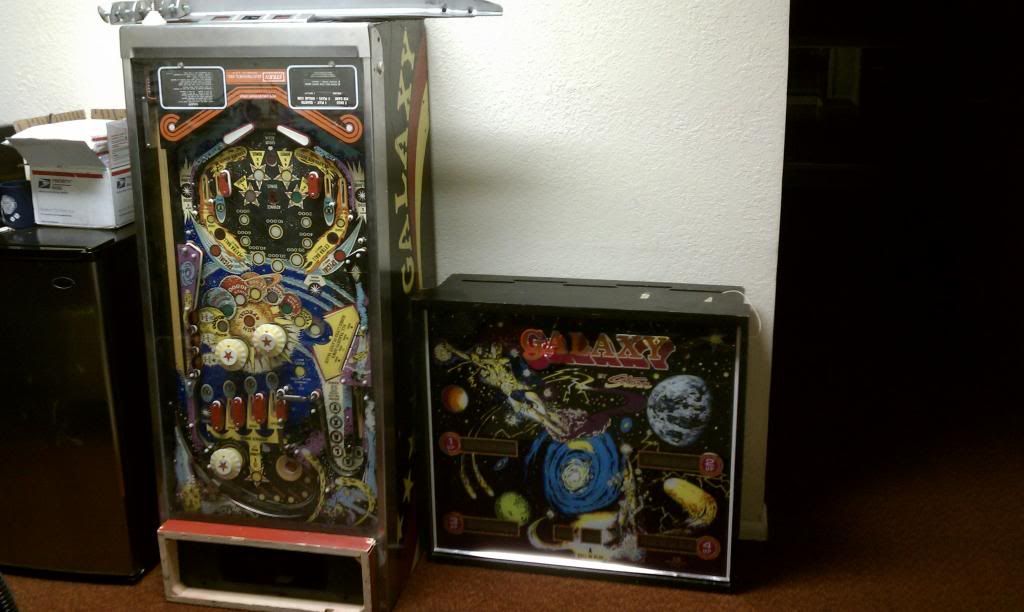 Time to get started: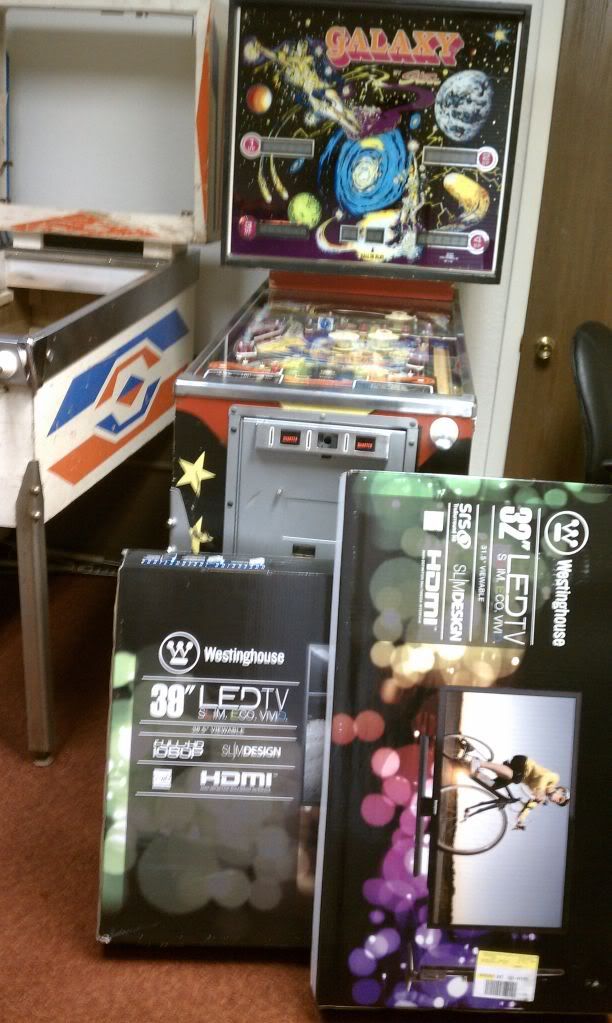 Burnt transformer:
Front of cabinet and coin door:
Cabinet cleaned out: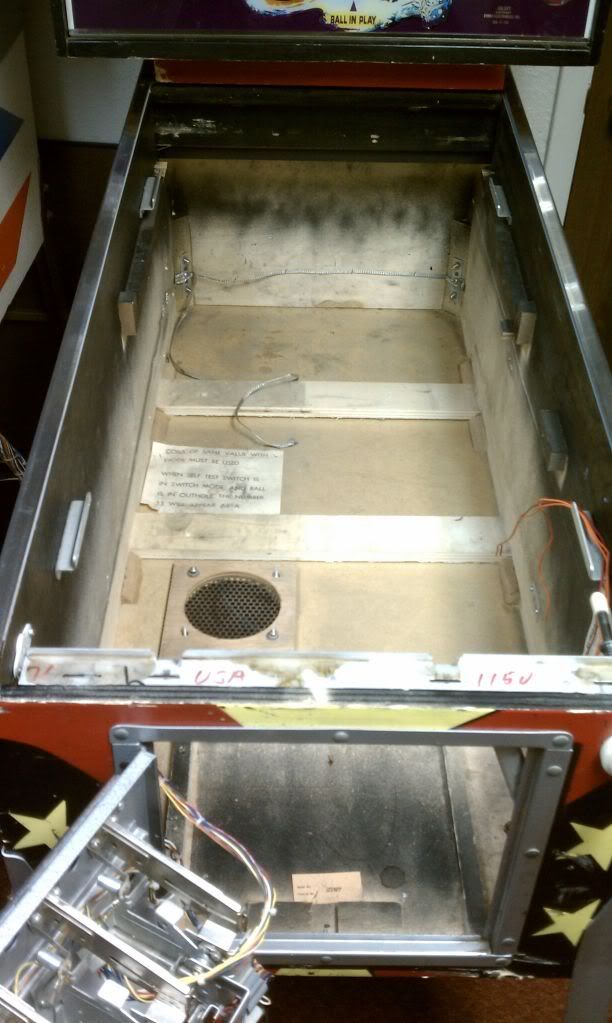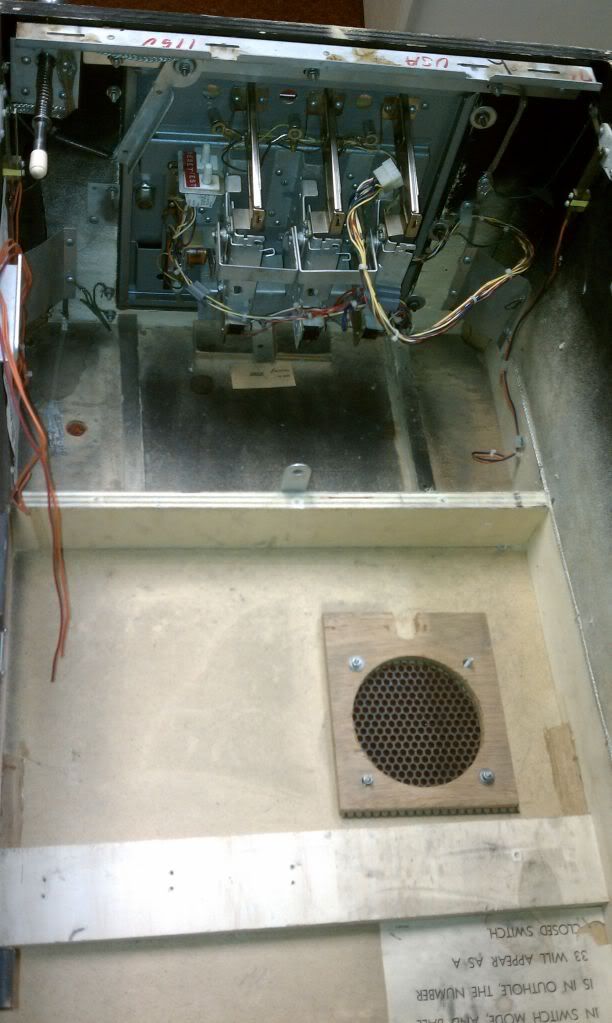 Packed up for the day: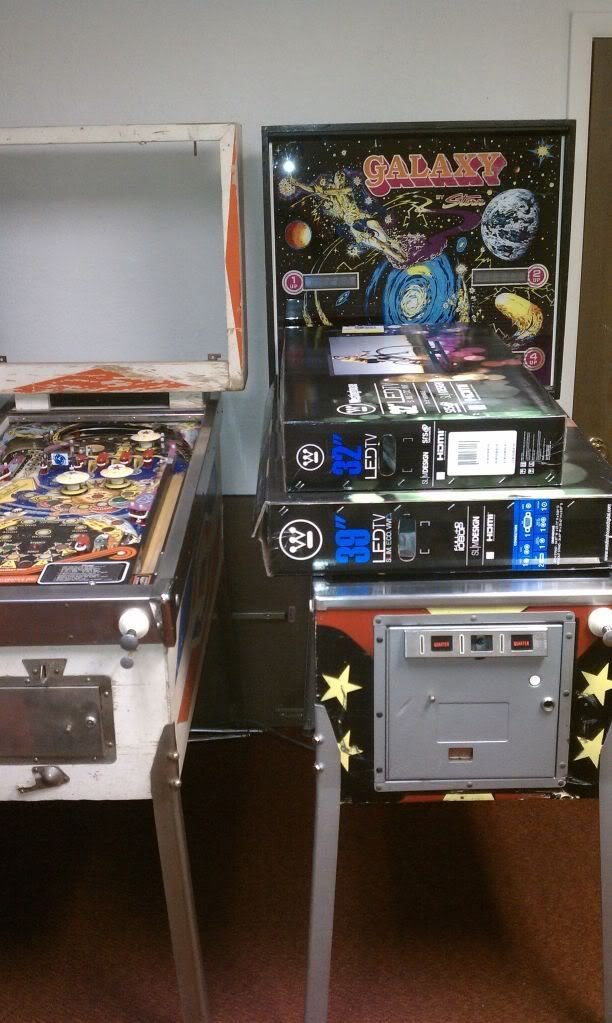 I will use this post to document the components of the project.
Galaxy Pinball Machine from local sale                      
Westinghouse 39" LED EW39T6MZ from Best Buy  
Westinghouse 32" LED UW32S3PW  from Best Buy
Intel Core i3-2120 3.3Ghz LGA1155 CPU                 
ULTRA LSP750 750W ATX POWER SUPPLY      
Gigabyte Intel Z77 CrossfireX ATX Mobo              
Corsair Vengeance 4GB DDR3 1600MHz                  
Galaxy Nvidia Gforce GTS250 DDR3  #1                   
Kingston 64GB SSD                                                    
Encoder (AVR Minimus)                                              
Fused Power Jack                                                       
Laptop LCD Panel (12.1")                                           
Laptop LCD Controller                                                
LCD Mounting Supplies                                              
Rosewill Fan Newegg                                                 
Misc Electrical Plunger Sw                                         
USB Cables                                                                
1"x2"x8' Ace Hardware                                               
Speakers Ebay                                                          
Lepai Amplifier Ebay                                                 
Cam Lock                                                                  
Edited by MTPPC, 27 January 2020 - 02:15 PM.