Let me first apologize for offending anybody's sensibilities WRT converting a machine that could have likely been "saved". I spent about a month trying to rustle up a power supply so I could begin to determine what all was damaged when the previous owner replaced the fuses with foil and the transformer melted down. I found a different complete, working Galaxy for $400 and decided my electronically burned out unit would be much more valuable to me as a simulator. I'm sure not all the electronics were toasted, but I refused to start shotgunning a bunch of parts at what likely would cost triple a superior replacement. Many said I should trade it for a stripped cab or build a flatpack. Stripped cabs are like hen's teeth around here and flatpacks are too much work and money. I decided to do what was best for me, my time and my wallet. I surely would have traded this machine out for another standard cab, but it took me over half a year to find this one. I enjoy and appreciate the genuine patina of 30 years of abuse and will keep the original paint as-is.
This machine will have a slightly recessed playfield, a borderless backglass and a 12" laptop LCD DMD. No force feedback. Budget $1500.
How I got it: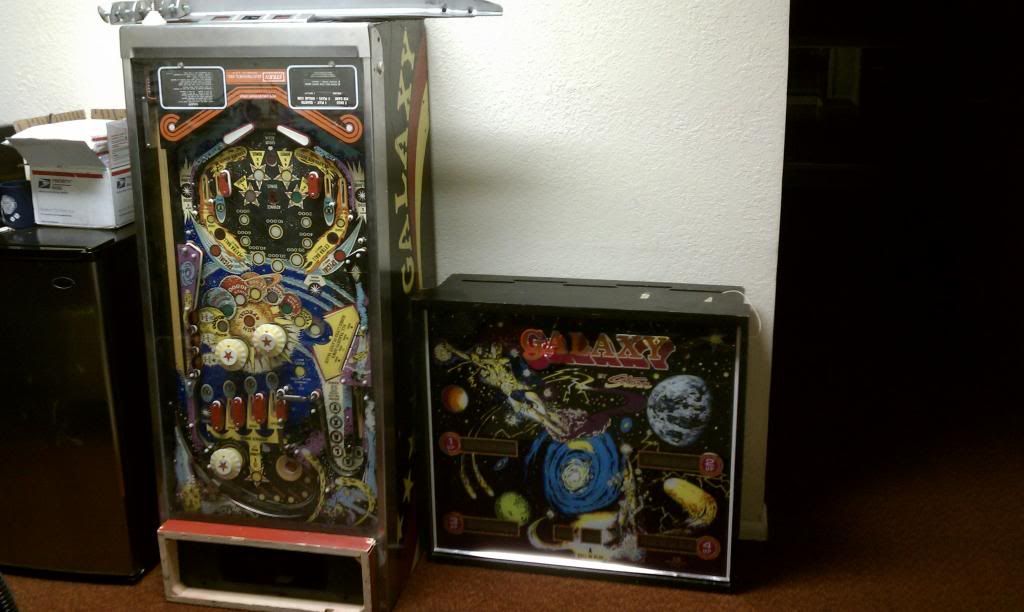 Time to get started: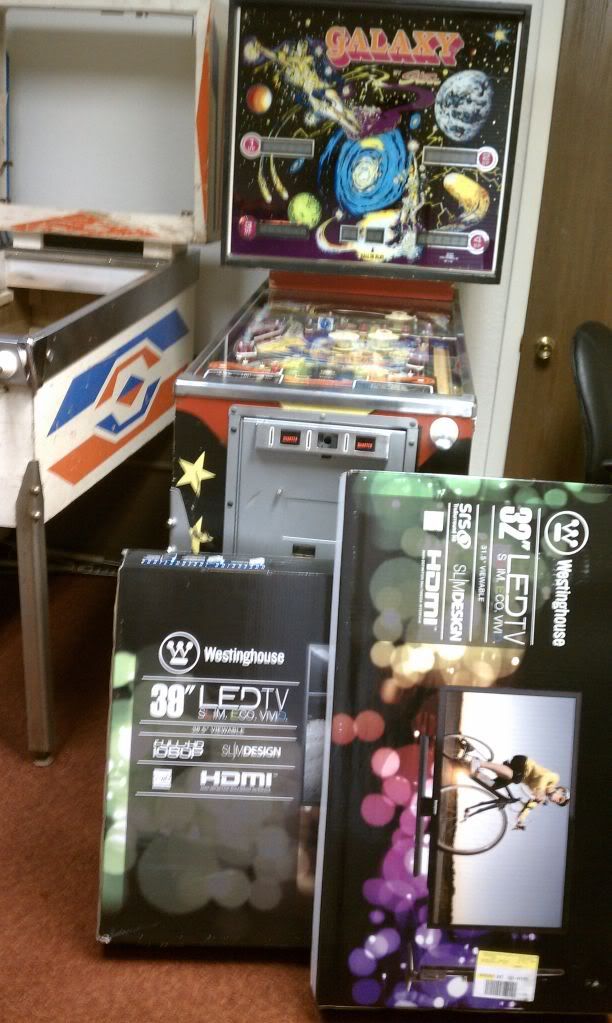 Burnt transformer:
Front of cabinet and coin door:
Cabinet cleaned out: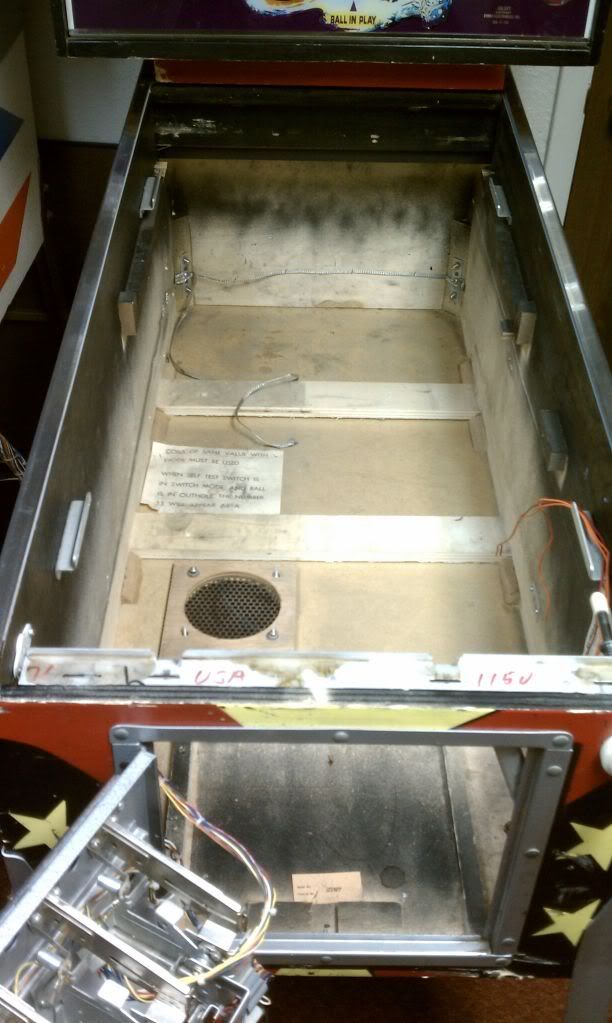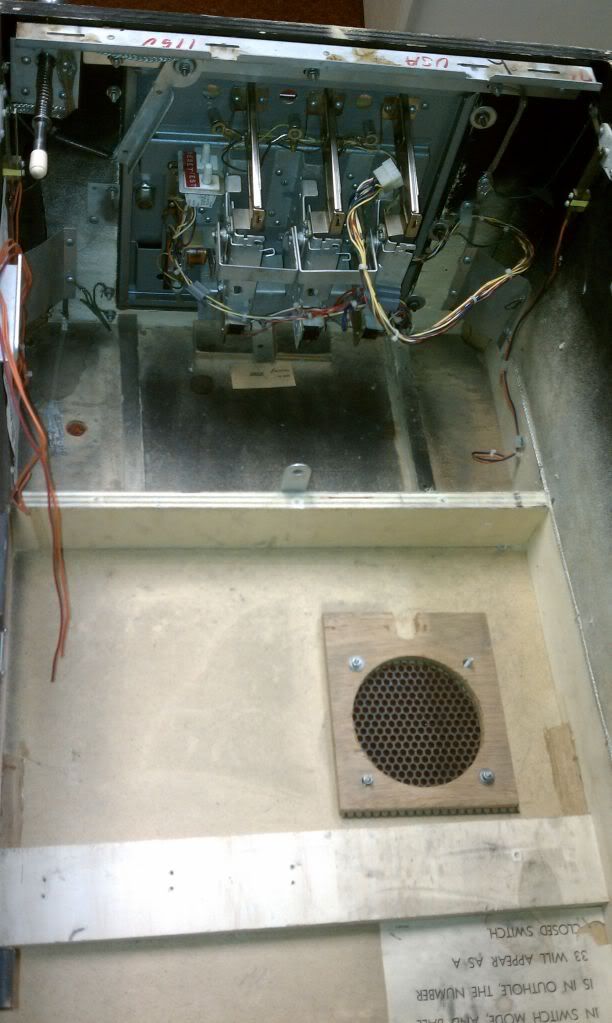 Packed up for the day: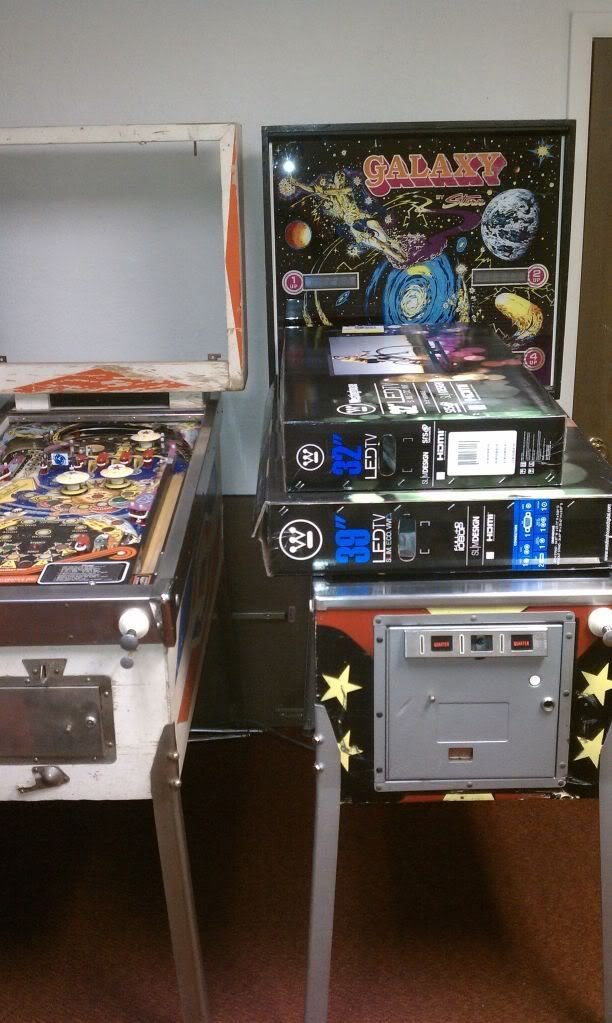 I will use this post to document the components and costs of the project.
Galaxy Pinball Machine from local sale                       $100
Westinghouse 39" LED EW39T6MZ from Best Buy    $328
Westinghouse 32" LED UW32S3PW  from Best Buy  $210
Intel Core i3-2120 3.3Ghz LGA1155 CPU                  $115
ULTRA LSP750 750W ATX POWER SUPPLY              $70
Gigabyte Intel Z77 CrossfireX ATX Mobo                   $105
Corsair Vengeance 4GB DDR3 1600MHz                    $25
Galaxy Nvidia Gforce GTS250 DDR3  #1                     $39
Galaxy NVIDIA GTS250 GDDR3   #2                           $45
Kingston 64GB SSD                                                     $69
Encoder (AVR Minimus)                                               $15
Fused Power Jack                                                         $5
Laptop LCD Panel (12.1")                                            $17
Laptop LCD Controller                                                 $27
LCD Mounting Supplies                                                 $9
Rosewill Fan Newegg                                                    $7
Misc Electrical Plunger Sw                                           $15
USB Cables                                                                  $8
1"x2"x8' Ace Hardware                                                $4
Speakers Ebay                                                           $23
Lepai Amplifier Ebay                                                   $11
Cam Lock                                                                   $7
For a grand total of $1254
Edited by MTPPC, 13 June 2013 - 04:37 PM.