Submitter
Previous Versions
Download Double-Up (Bally 1970) 1.1





10 Votes

5
Bally's 1970 Double-Up, supposedly only 55 of these were produced.  I got turned onto this table by a
restoration going on at Pinside by Pecos
(who also goes by Alan).  I ended up deciding to take on my first playfield redraw in Illustrator with much help and advice from such characters here as krugge99, hauntfreaks, bodydump, mfuegemann, and wrd1972 who was going through his first redraw as well and who's thread I hijacked
 Thanks All! 
Pecos has been very helpful with additional photos, sound bites, and even a very nice written and video run through of the complete ruleset, I wish I had that much info for all my table builds.  Be sure to check out his thread linked above (tells you how to play).  He also provided some great feedback from a short gameplay video I provided him. 
Hauntfreaks went above and beyond getting the backglass image from a low res dark image into something useable, getting the plastics cleaned up as well, and making me some nice primitives for these old school ball gate brackets.  big thanks. Oh and put up a wheel image for the table as well. 
Enjoy, it's a fun but merciless table.  Still things to tweak (always) and feedback is very welcome. 
future update to include DOF support
directb2s file is included but I haven't spent a lot of time on it or playing it so let me know if there are any issues. 
hold down left flipper to access the options menu (thanks for the idea loserman76 and gnance) 
NOTE: this table requires the vp10.1 beta, get the latest HERE
Dan
FS settings in the table are for my cab which has the playfield in portrait mode, most of you will need to adjust the Backdrop settings.
Here is a starting point for those of you running it the wrong way    

  I can't vouch for how well it looks.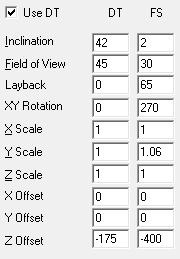 Other files you may be interested in ..
14,263

Total Files

55

Total Categories

618

Total Authors

14,156,779

Total Downloads
Magic Clock (Williams 1960) Latest File

loserman76

Latest Submitter
user(s) are online (in the past 15 minutes)
members, guests, anonymous users
Double-Up (Bally 1970)