I'm starting my own thread to document my first attempt at building a digital pinball machine:
This is a made from scratch project using a 24" asus widescreen and a 17" dell 4:3 monitor. My buddy gave me an HP dual core 2.5. I'm going to use hyperpin, a xinmo 1-player encoder and joy2keys to run future pinball tables. I don't know anything about visual pinball, but I might try that in the future. For now, I have all my software running good and about a dozen tables set up and working nicely.
I'll have flipper and left nudge buttons on the left side and flipper, right nudge, and bottom nudge on the right side. My coindoor came off a Steel Talons arcade machine and has room for eight buttons. So far, I'm thinking:
Coin
Start (shifted pause)
Plunger
Escape or Back
Instruction Card (shifted Flyer)
Effects Volume Up (shifted Music Volume Up)
Effects Volume Down (shifted Music Volume Down)
Shift (via joytokeys)
The PC power button will just be a standard arcade button on the back of the machine. The playfield will be covered w/ 3/16" glass and the backglass will be 1/8". It's built on a 1-1/4" Fiberboard adjustable leg table cut to 36" x 18". The box is made of 7/16" fir exterior plywood.
A buddy lent me an air brad nailer and I used 1" brads, 3/4" nailers and glue to assemble it. What a life saver!
I'm using 1.5" light aluminum angle for side rails and lock bar and using Large Flat ATA Flight Road Trunk Case Corners where the chamfered angles meet. (
http://www.ebay.com/...=item3349f3a1e9
). There is a 16" x 8" eave vent and fan in the back. There are two 4" speakers mounted in the roof of the backbox.
I'm leaving it flat black for now, but have a line on some Tron upright arcade game side art that I might buy to cut up and wrap this with.
Today I wired up the controls and Xin Mo joystick encoder. I will have to remap the right shift because hyperpin doesn't like that command from joytokey. Otherwise, the controls are complete. Here are some pictures: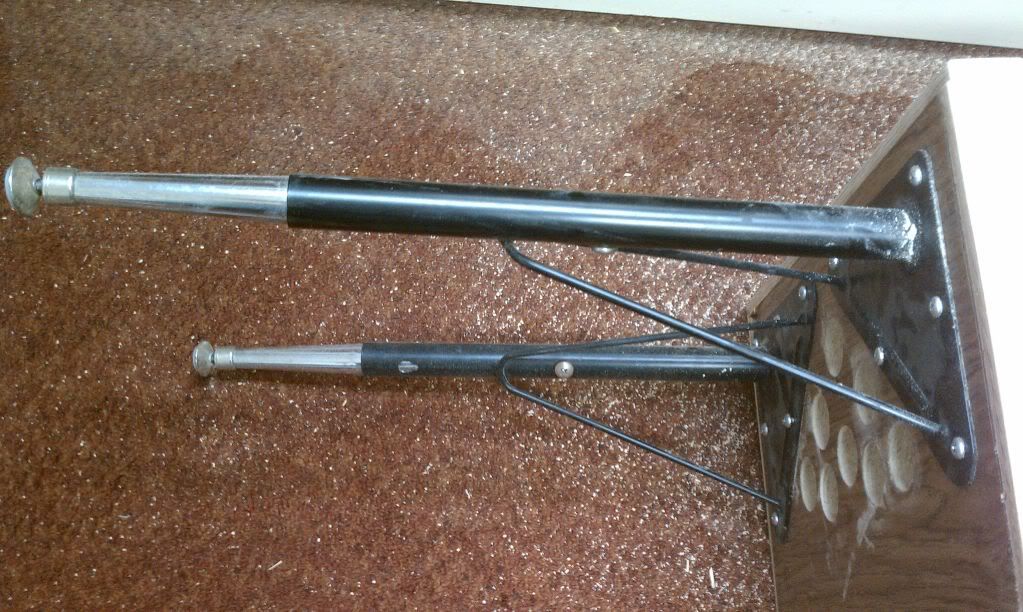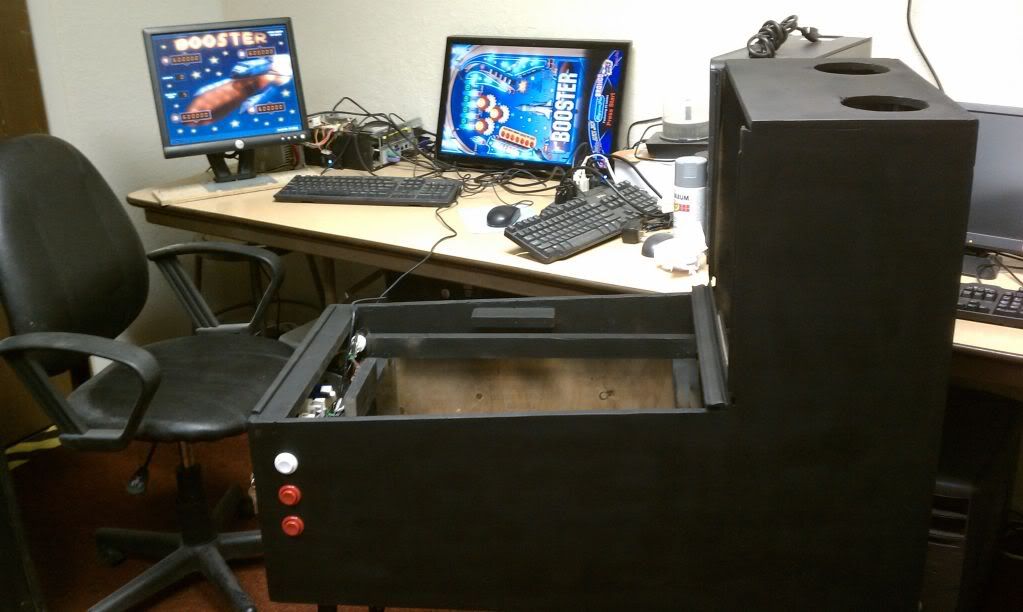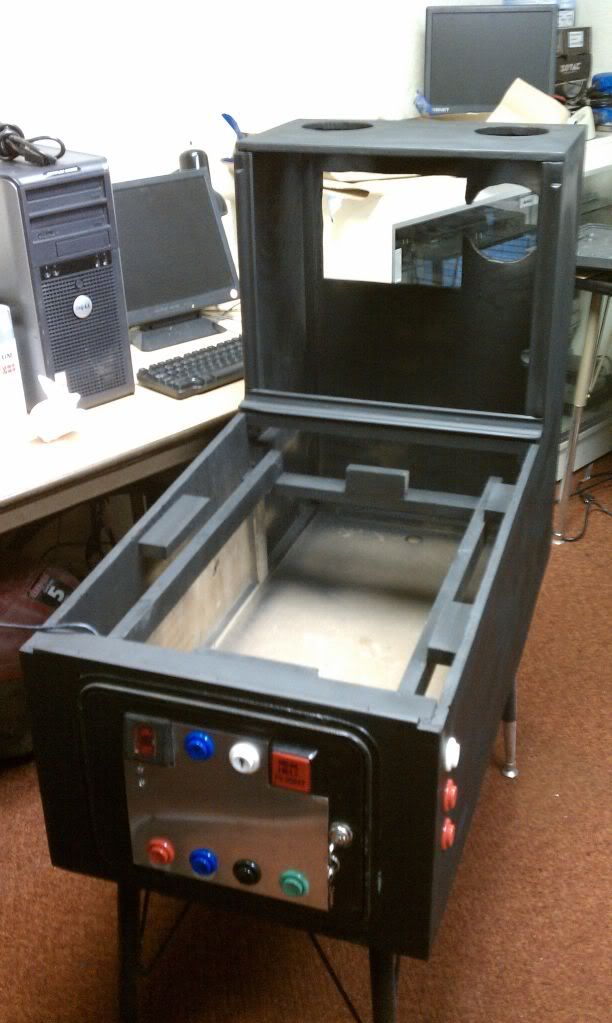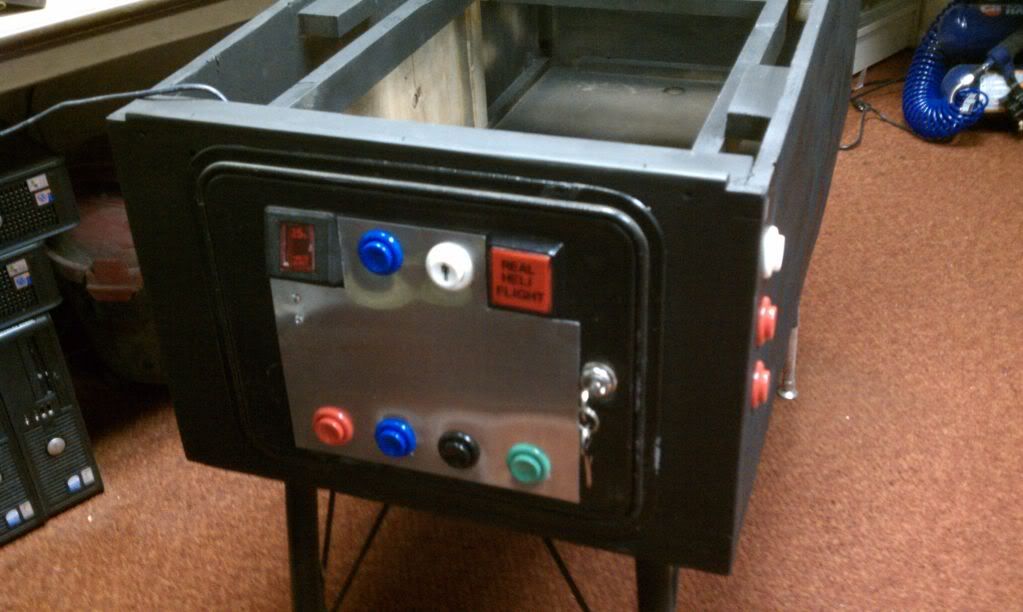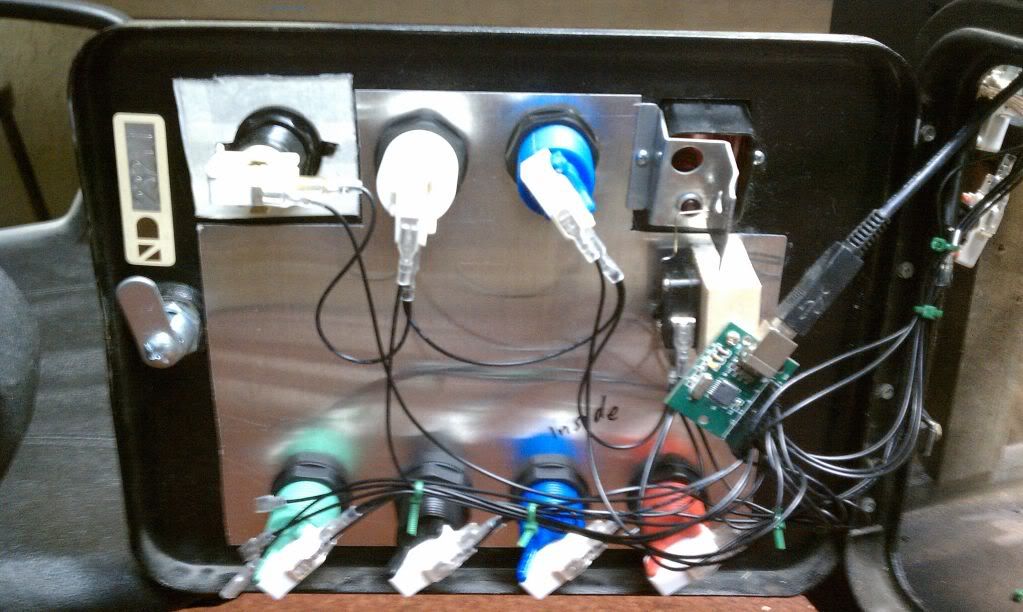 It looks like the total build will come in under $400, but I have to tally it up yet. So much for now. Next is speakers, power and final assembly. More pics to follow.